The Salmon Library Welcomes You!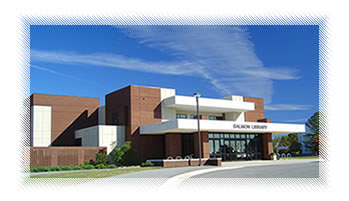 Salmon library is open to the public. However guests and alumni require a library card to access to certain materials, including databases, and to borrow books.
If you are a UAH alumni, you can now get guest access for free! This requires an alumni card before you receive the library guest card, mind you. You can see our blog post on this topic for more details.
If you are not an alumni, the guest the card is $75 for 3 months, though "PC-Only" access (access to our on-campus computers and therefore to our databases) is $50.
Note, if you do not need a card to enter the library, to read physical books, to study at the library (closed off study rooms excepted), to make photocopies, or to visit our archives. Since printing is tied into our computer labs, you will need a card to print.
If you are unsure about purchasing guest access, feel free to browse our catalog or look through our list of databases to see if we have what you need.
Unfortunately at this time off-campus access to online library resources is available only to current UAH students, faculty and staff. If you wish to do research from home, and if you live in Alabama, you might be best off using the Alabama Virtual Library. You can also use Worldcat and GoogleScholar to access what is written about a topic, though they do not reliably have access to the materials they index.
Other examples of research materials that you can access off-campus include:
There are many, many others, of course.
Tours of the Library are available by appointment. Call David Moore at 256-824-6540 or email for information.
Directions to the Library
The University of Alabama in Huntsville is located off of Sparkman Dr in Huntsville, Alabama.
The University has a webpage aimed at assisting visitors to campus - see the link below.
There is a parking lot in front of the Salmon Library. Most campus visitors park in that lot or in the new parking deck across Holmes Ave.