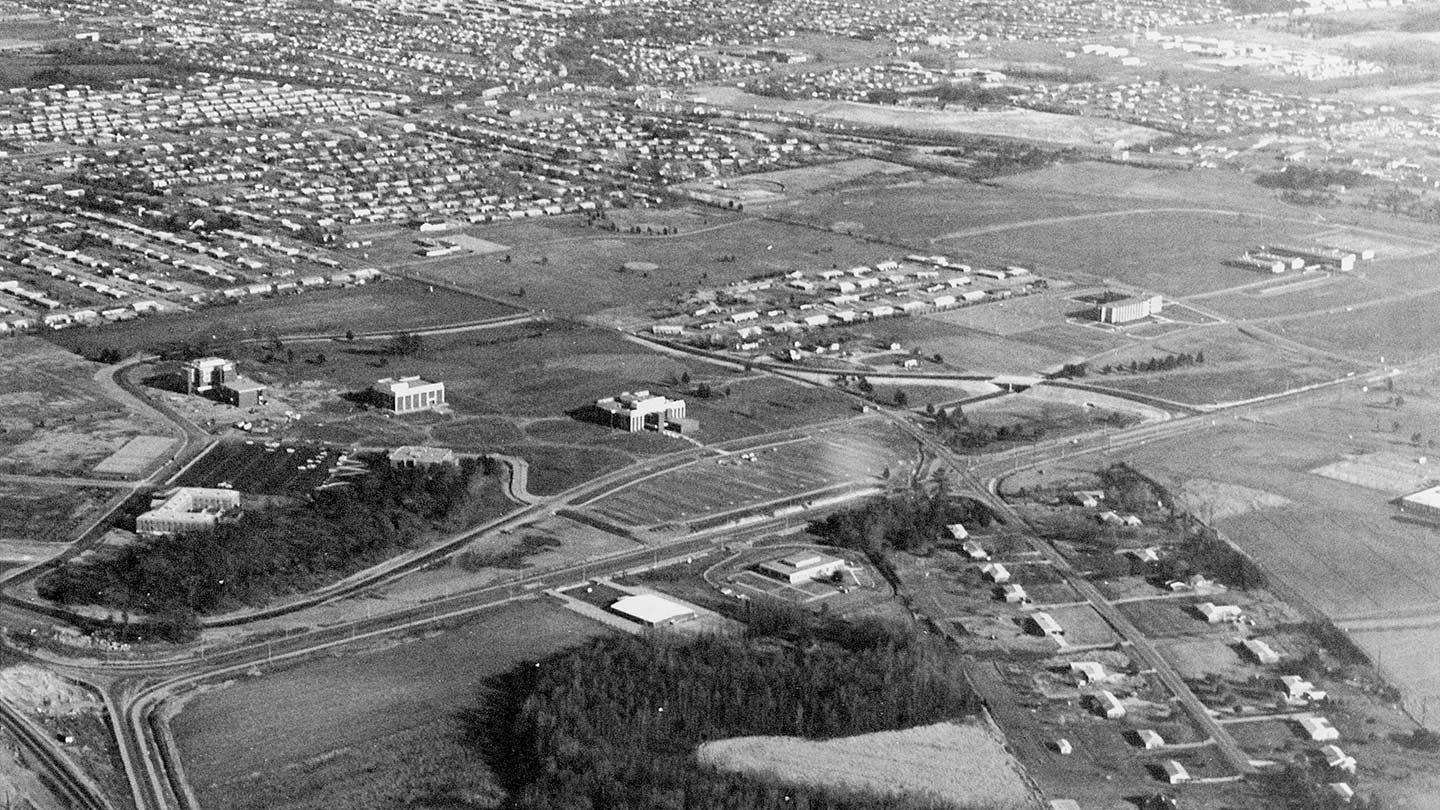 In November 1949, Huntsville's leaders learned that their lengthy campaign to open an extension center in the city had been approved by the University of Alabama. Three months later, in what later became Stone Middle School, the new University of Alabama Huntsville Center began offering ten freshman-level classes. Enrollment was 137 students, many veterans of the Second World War whose G.I. Bills covered the Center's tuition of $4 per credit hour.
It proved to be an instant success. Within a few months, enrollment had almost doubled. And within a few years, city officials had procured an 83-acre parcel of property on the south side of U.S. Highway 72 and approved the construction of a new building, Morton Hall, to accommodate the center's growth. Yet by the time of its completion in 1961, the demand for a highly trained workforce among the city's aerospace and defense industries had once again exceeded capacity.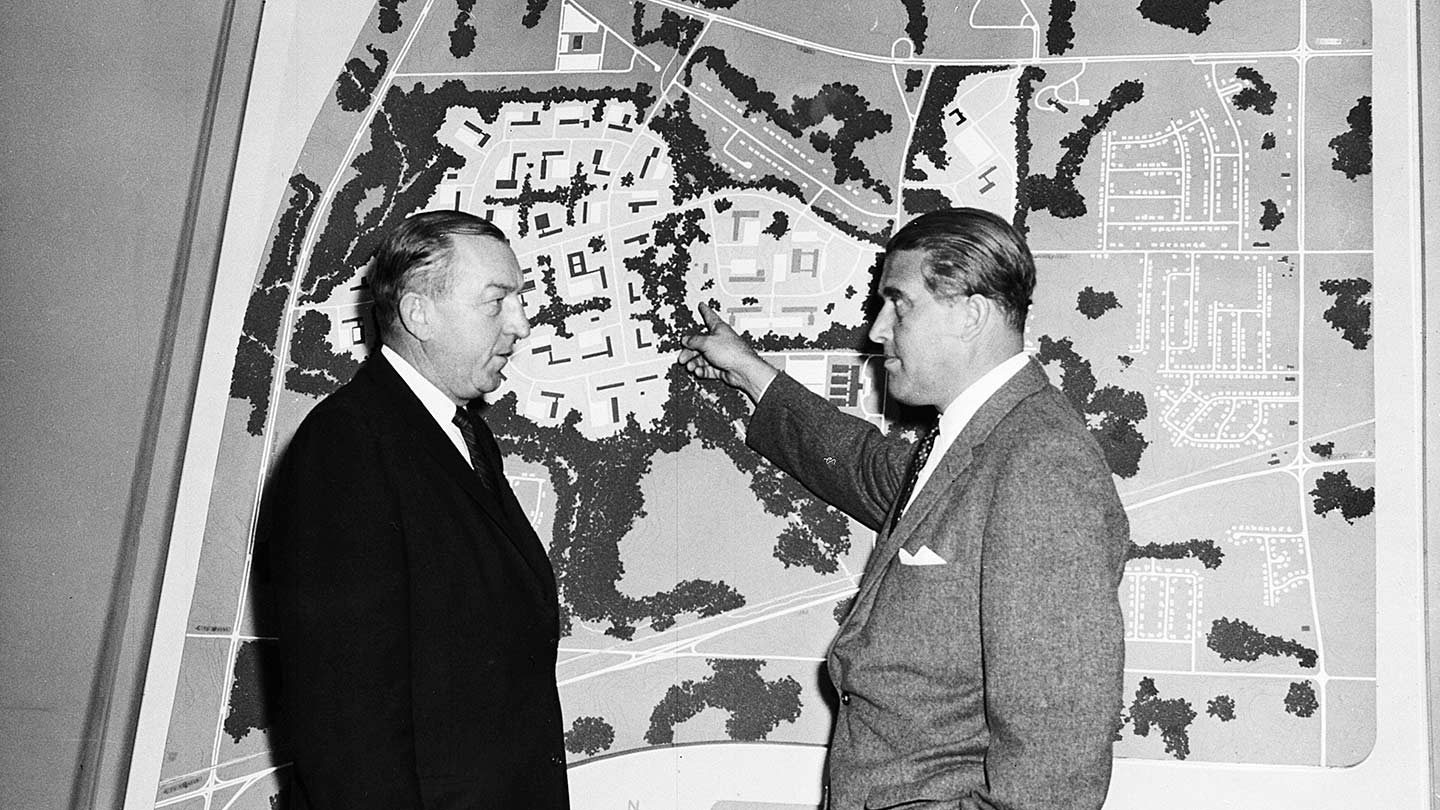 Seeking a more permanent solution, a committee headed by renowned rocket scientist Dr. Wernher von Braun traveled to the state capital that summer to request a $3 million bond for the establishment of a research institute. "It's the university climate that brings the business," said Dr. von Braun in a presentation to the Alabama Legislature. "It's not water, or real estate, or labor, or cheap taxes that bring industry to a state or city. It's brainpower."
Both houses of the Alabama Legislature passed the bill, which enabled Huntsville and Madison County to purchase an additional 200 acres of land and build the proposed research institute. Spragins Hall and Madison Hall followed in quick succession, earning the center a promotion to "branch campus." But it wasn't until 1969, with the addition of Wilson Hall, University Center, and the Louis Salmon Library, that UAH was made an autonomous university by The Board of Trustees of the University of Alabama.
In March 1970, Dr. Benjamin Graves was appointed UAH's first president, and a few months later, the new university celebrated its first official graduation ceremony. Construction on Roberts Hall was completed and financing for a residential complex, now Southeast Campus Housing, was secured from the U.S. Department of Housing and Urban Development's College Housing Authority.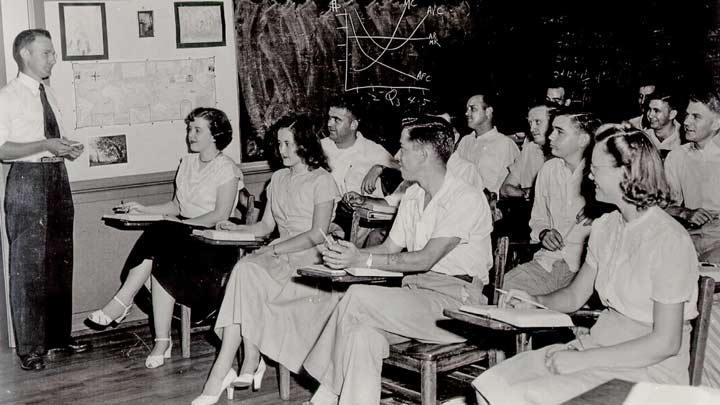 With Dr. Graves retirement in 1978, Dr. John Wright was named president of UAH. During the next decade, the university capitalized on its ties with Huntsville's business and technology communities, establishing research centers in optics, microgravity, robotics, and space plasma. The "Von Braun Bullies," UAH's club hockey team, was also formed, ultimately joining the NCAA and earning Huntsville its reputation as "the Hockey Capital of the South."
Dr. Louis Padulo became UAH's third president in 1988, overseeing the start of construction on the Materials Science Building, Optics Building, and a second residence hall. Huntsville business leader Joseph Moquin then served as interim president for one year until Dr. Frank Franz was appointed in 1991. During his tenure, UAH switched from a "term" academic calendar, originally used to hasten graduation for armed forces veterans, to the semester calendar that's in use today.
In 2007, Dr. Franz was succeeded by Dr. David Williams, and in 2011, Dr. Robert Altenkirch was named president. Since unveiling his strategic plan, Dr. Altenkirch has focused UAH's efforts on strengthening its current position as a research pioneer and becoming a leader in the fields of aerospace and systems engineering; biotechnology; cybersecurity and big data; earth, atmospheric, and space science; and gaming and entertainment arts.
Construction on campus also continues apace. Recent additions include the Severe Weather Institute–Radar & Lightning Laboratories and the Charger Union, as well as the renovation of Roberts Recital Hall, the expansion and renovation of the Nursing Building, and the creation of a greenway. A new Student Services Building opened in 2016, and serves as the "front door" to the university.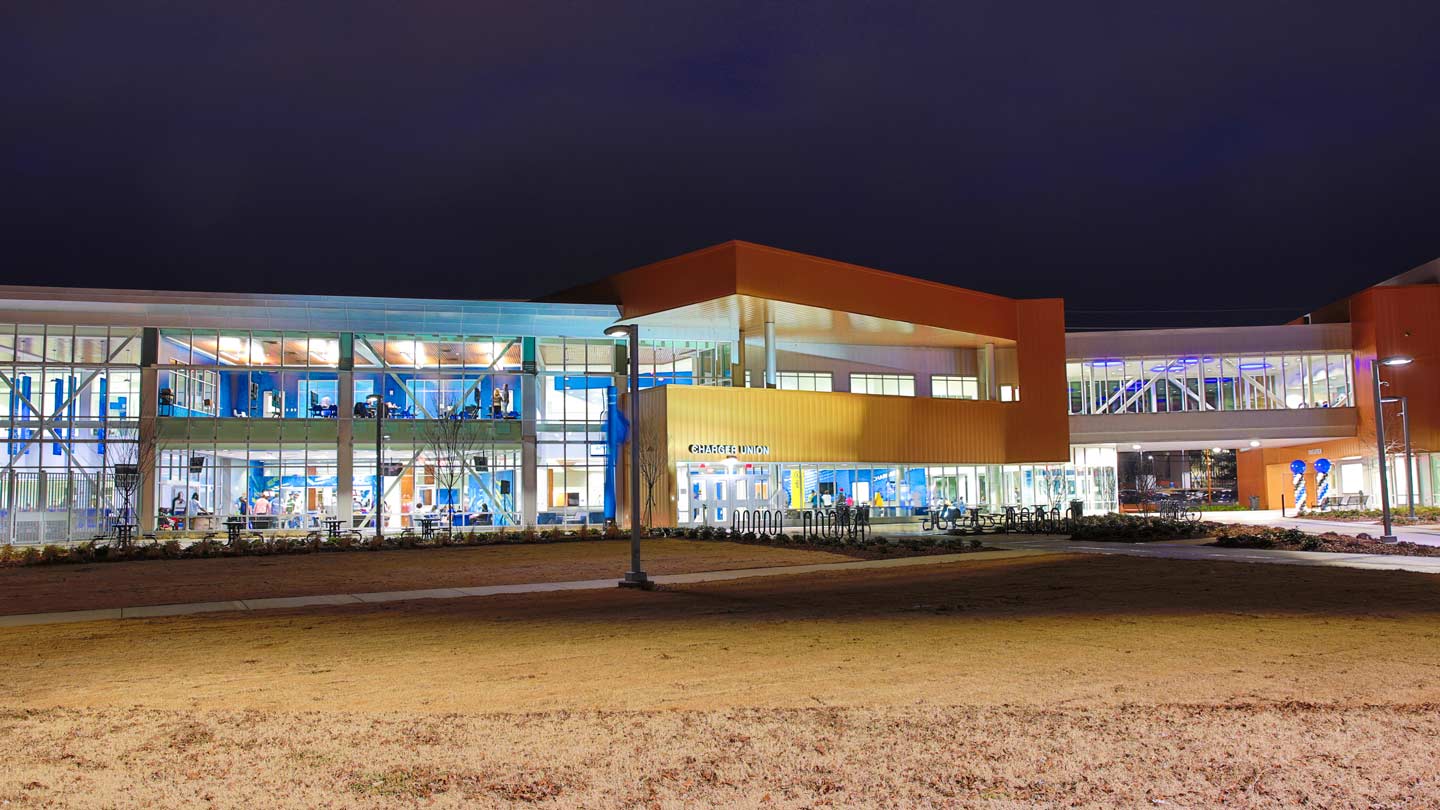 In short, UAH has come a long way since its modest origins as the University of Alabama Huntsville Center. Today, the university comprises nine colleges that offer over 100 areas of study to its 9,700 students. The Carnegie Foundation classifies it as a "high" research activity institution, one of only 73 in the United States.
It's a culmination of decades of hard work that has resulted in benefits that extend far beyond the UAH campus and well into the community at large. UAH is not just an institution of higher learning, but a partner to the city, its business and industry, and its citizens – just as Dr. von Braun foresaw in his 1961 speech to the Alabama Legislature. "Opportunity goes where the best people go," he said, "and the best people go where good education goes."